We are pleased to introduce the method of HP type rail bond.
It is saying simply that this method is just brazing terminal to rail as shown below.
1)  Positioning of terminal
After deciding position of fix, it is to be marked the width on the rail with own positioning piece.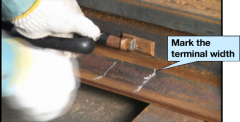 2)  Grinding rail
It is to be grinded a little bit larger area than that of marked in advance.
It confirms smoothness at the grinding area by own gauge.
3)  Fix terminal
It is to apply the flux and fix the terminal with own crimp tool.
4)  Heat up
It is to heat up the terminal by acetylene burner.
(heating up standard time is 85 seconds at 110sq terminal and 75 seconds at other ones except 110sq terminal)
5)  Cooling and washing
It is to spray water for cooling and wash out the remaining flux.
It confirms that solder must be soaking out around the terminal piece.
(confirming finish)
On the way to these processing, most important point is to be 4) heating process.
It is quite necessary to heat up the rail material more than 216 degree C melting point of solder in order to make sure the enough connection strength.
This is the separate point of successful work or unsuccessful work for obtaining good performance of HP type bond.
In details, kindly refer to " Factors of brazing and remarkable points "